I've read a lot, even though my ADD keeps me from reading only one book at a time. If I force myself to sit down and read for a while, I'm easily entranced by the worlds in between the pages. Without further ado, these are my top ten favorite books/series!
#10 The Maximum Ride Series by James Patterson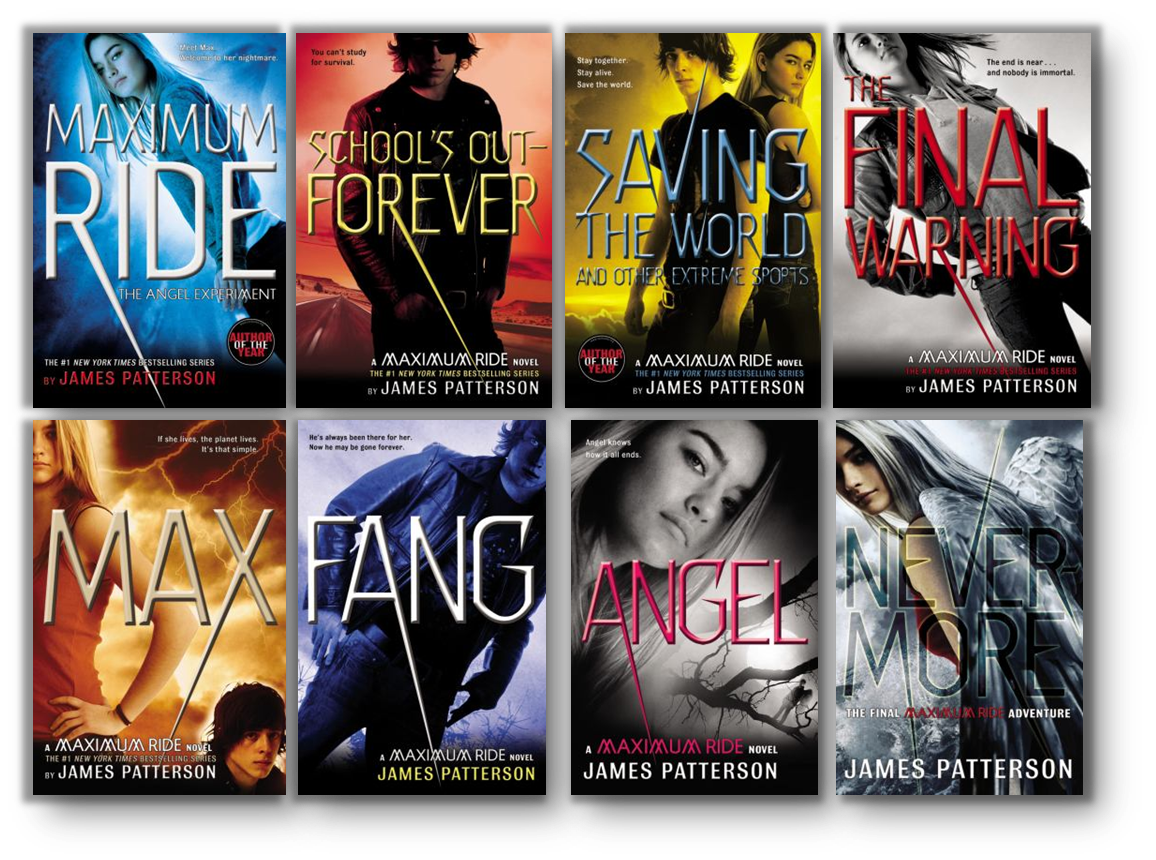 This story follows six kids, mutants, as they go on a journey to find out how and why they were made. Max and her friends all have the ability to fly, with angel-like wings connected to their backs and that is just the beginning of their awesome powers. They soon find out that maybe their purpose wasn't to save the world at all, but to destroy it.
#9: If I Stay Series by Gayle Forman
Mia has faced a lot of choices in her life, from staying true to her music even if it means leaving her boyfriend and family behind. One February morning Mia went out for a drive with her family, and in an instant her world changes. Now, stuck in a coma, she only has one choice to make; whether to let go or keep living.
#8: The Shadow Children Series by Margaret Peterson Haddix 
In a world ruled by the Population Police, where having more than two children is illegal, we follow Luke a third child, living in hiding. Luke has never been to school, never been to town, and never had any friends. Now, thanks to the construction going on in the woods behind his house, he can't even go outside anymore. His world changes when he sees the face of a girl in the window of a house that he knows already has two children. Jen is risking everything to come out of the shadows, does Luke dare follow?
#7: Cradle and All by James Patterson
In this captivating thriller, we follow P.I. Anne Fitzgerald as she uncovers the truth about two virgin births. Trying to save both women one from Boston and the other an ocean away in Ireland, she has to struggle through massive world events. Around the world, epidemics, famines, droughts, floods, and worse threaten major cities. The forces of light and dark are gathering and she finds that she may not even be able to save herself.
#6: The 5th Wave Series by Rick Yancey
In this sci-fi series we follow Cassie as she remembers the first four waves of the alien invasion, and travel with her through the fifth wave. All by herself, she knows she shouldn't trust anyone but she has no choice when a mysterious man saves her life after she is attacked by one of Them. In this book, we watch Cassie as she struggles between choosing trust or fear, rebellion or surrender, and life or death.
#5: The Hunger Games Series by Suzanne Collins
This book is about a post apocalyptic North America, now called Panem, that has been separated into a wealthy Capitol with twelve poorer districts surrounding it. After the thirteenth district rebelled against the Capitol, resulting in District Thirteen's demise, it resulted in an annual televised event, in which each district sends a male and female between the ages of 12-18 as tributes. These tributes fight to the death until only one remains. We follow Katniss on her path to victory.
#4: The Tommyknockers by Stephen King
This is a horror book by one of the best horror writers in history. In this book we follow Bobbi Anderson as she uncovers a strange and large metal object buried under the ground in the woods behind her house in the town of Haven, Maine. This object seems to have given every man, woman, and child powers beyond belief. A slow invasion starts, an invasion of the mind, body, and soul.
#3: The Gone Series by Micheal Grant
In this sci-fi/horror/thriller we follow the stories of many kids in the FAYZ (or Fallout Alley Youth Zone). In the blink of an eye everyone over the age of fifteen disappears. There is no internet, no phones, no television, no radio, and no way to get help. They are trapped in what seems like a twenty mile long bubble with no way to escape. In this world where bullies rule, Sam has to step up and be the leader everyone knows he is. That's when some of the children notice that they have strange new powers, some of which started blooming before the FAYZ even started. Cain rises to power and now it's a battle between light and dark, in this strange new world.
#2: The Mortal Instruments Series by Cassandra Clare
In a series of six fantasy books, we follow a young artist called Clarissa Fray as she discovers a world hidden from her own. When she stumbles across people called Shadow Hunters, her life is turned upside down. She is shook to her core when she sees a murder played out that her friend, Simon Lewis and seemingly everyone else in the Pandemonium Club, can't. When her mother disappears, there is only one thing left to do: fight. In this book you see a whole new world full of angels, demons, and monsters.
#1: 172 Hours on the Moon by Johan Harstad
Originally called Darlah, this book was published in Norwegian and translated to English by Little, Brown and Company. It is a sci-fi/horror/thriller novel that follows the stories of three teenagers that win a lottery to be the youngest people ever to travel to the moon. This is the opportunity of a lifetime, but little do they know, something sinister is awaiting their arrival. In the black vacuum of space, no one can hear you scream.
Honorable Mentions:
The Harry Potter Series by J.K. Rowling (I wanted to feature books that not everyone knew about)
Lord of the Rings by J.R.R. Tolkien
Animal Farm by George Orwell
Game of Thrones by George R.R. Martin
Of Mice and Men by John Steinbeck
Divergent Series by Veronica Roth
Angela's Ashes by Frank McCourt
The Great Gatsby by F. Scott Fitzgerald
The Chronicles of Narnia by C.S. Lewis
City of Ember by Jeanne DuPrau
The Fault in Our Stars by John Green
Paper Towns by John Green
The Perks of Being a Wallflower by Stephen Chbosky